LIVE Weather Blog: Updates as snow, wind and dangerous cold impact the QCA
Published: Dec. 22, 2022 at 7:09 AM CST
|
Updated: Dec. 22, 2022 at 2:58 PM CST
QUAD CITIES, Iowa/Ill. (KWQC) - A First Alert Day remains in effect for Thursday, Friday and Saturday for snow, gusty wind and dangerously cold temperatures. If you have a photo or video you would like to submit to TV6, click here.
3:00 p.m. Thursday
Tonight into Friday, whiteout conditions are possible in rural areas, with drifting possible in the cities as winds gust up to 50 mph. This will continue through the day Friday. and into Friday night and Saturday. Winds will still be gusty Saturday afternoon and Saturday night, but calm down a bit by Christmas morning. By Christmas night we will be tracking a clipper system that could bring another round of snow that could bring a little accumulation.
2:15 p.m. Thursday
Two credit unions serving the Quad Cities, and some area government buildings are closing early for the day.
Ascentra Credit Union says due to severe weather, all branches will close at 3 p.m. on Dec. 22.
IH Mississippi Valley Credit Union says with staff and member safety in mind, all lobbies and drive-up locations will close at 3 p.m. due to the weather. The Contact Center and ITMs will be available until 7 p.m. on Dec. 22.
All Clinton County government buildings will also close at 3 p.m. Muscatine City Hall closed early at 2 p.m., and all Illinois Secretary of State offices and Driver Services facilities closed at 1p.m. Thursday, Facilities will reopen after the holiday weekend on Tues., Dec. 27.
1:31 p.m. Thursday
Snow continues to wind down in our Iowa counties and will continue to move east over the next few hours. Just because the snow is coming to an end does not mean you can let your guard down. Gusty winds 25-35 mph through evening could lead to blowing snow and icy spots on the roads. The wind picks up 30-50 mph tonight and Friday which could lead to whiteout conditions and hazardous travel.
12:47 p.m. Thursday
A few snowfall reports trickling in early this afternoon. It's going to be hard to get an accurate measurement.
Lowden, IA: 5.9″
Dubuque: 2.7″
Davenport: 2.1″
Milledgeville, IL: 2.1″
Bettendorf: 1.5″
Fulton: 1.0″
Moline: 0.7″
12:35 p.m. Thursday
The Iowa Department of Transportation has tow bans in effect for Johnson and Jackson counties. First responders will not be able to respond to any drivers with vehicles in the ditch. Click here for the latest road conditions.
12:00 p.m. Thursday
TV6′s Larry Goodwin provided a live update from DeWitt, Iowa early in the afternoon.
11:30 a.m. Thursday
Here's the latest First Alert Forecast with an update on the snow, gusty wind and bitter cold.
10:50 a.m. Thursday
Dangerously cold temperatures and wind chills have already moved into the TV6 viewing area, and they will continue to get worse throughout the day. Feels like temperatures will be in the -30° to -40° range tonight into Friday morning.
10:06 a.m. Thursday
Iowa DOT snow plow camera looking northbound on I-74 in Davenport shows the roads partly snow covered, with blowing snow and low visibility. As winds pick up throughout the day, more blowing snow will be possible.
9:20 a.m. Thursday
Road conditions are continuing to get worse this morning, especially west of the Quad Cities. Iowa Department of Transportation says travel is not advised on Interstate 80 from West Branch and Iowa City to Des Moines. As gusty winds pick up tonight into Friday, travel will continue to be hazardous.
9:05 a.m. Thursday
Roads are quickly deteriorating as moderate to heavy snow moves into the metro. This is a look at Brady Street in Davenport right outside the KWQC studio.
8:32 a.m. Thursday
Temperatures and wind chills are rapidly decreasing as the arctic front pushes through. Winds are also gusting above 30 mph. Wind chills by later this afternoon will be -20° to -30°. Frostbite can happen within minutes.
Feels like temperatures are below zero and will continue falling.
The strongest wind gusts 40-50 mph will occur tonight and Friday.
8:14 a.m. Thursday
The snow squall continues to move east through the TV6 viewing area. Moderate to heavy bursts of snow, strong winds up to 40 mph and low visibility will create difficult travel conditions. Temperatures will be falling rapidly throughout the day, leading to flash freezes so any roads that have been treated and wet, could ice over quickly.
Facebook live from Randy Biery:
7:20 a.m. Thursday
Roads are partly to fully snow and ice covered as a combination of freezing drizzle, snow and rapidly falling temperatures have created slick conditions. Click the following links for the latest road conditions: Iowa Road Conditions, Illinois Road Conditions.
7:00 a.m. Thursday
As of 6:55 a.m., we are tracking an arctic cold front that will usher in the cold temperatures. Wind chills will be below zero throughout the day, and continue tumbling.
There is a snow squall moving through the viewing area this morning creating low visibility, a quick drop in temperatures and deteriorating road conditions creating hazardous travel. 1-2″ of snow will be possible as the band moves through.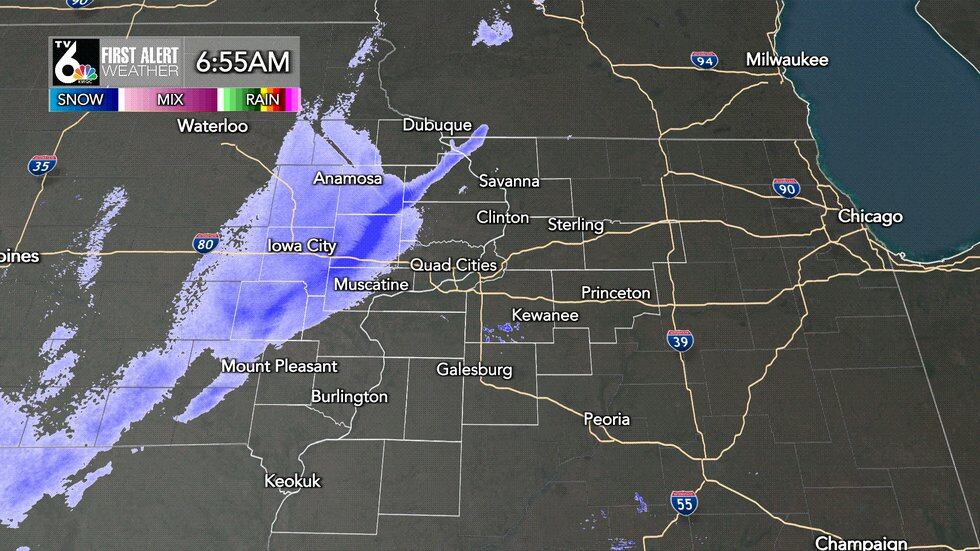 Winter Storm Warnings are out for the entire viewing area through Saturday morning. While most areas will likely stay in the 2-4″ range as opposed to the 3-6″ range, the amount of snow does not matter. It's about the impacts as the wind gusts 30-40 mph today, and 40-50 mph tonight and Friday will lead to blizzard conditions, causing difficult to near-impossible travel at times.
A Blizzard Warning will go into effect this evening northwest of the Quad Cities, but could get extended. This is after the snow falls, but again, the gusty wind will create whiteout conditions as the powdery snow is blown around.
Copyright 2022 KWQC. All rights reserved.